With a new branch in Bolgatanga, Anointed Electricals Engineering Services Ltd. expands.
Anointed Electrical Engineering Services Limited has officially opened its cutting-edge office in Bolgatanga, situated in the Upper East region.
The new branch will serve as a premier destination for the sale, maintenance, repair, and servicing of generator sets, spare parts, and generator rental services for clients in the region and beyond.
With its headquarters in Accra, Anointed Electrical Engineering Services Limited now boasts a total of eleven branches throughout the country, including Tema, Takoradi, Tarkwa, Obuasi, Kumasi, Nkawkaw, Sunyani, Wa, Tamale, Ho, and the latest addition, Bolgatanga.
During the inauguration ceremony, Mr. Samuel Adjei Boateng, the Managing Director of the company, expressed his satisfaction with the opening of the branch.
He emphasized the relief it would bring to businesses in the region, putting an end to the inconvenience of traveling to Tamale, Kumasi, or Accra for generator-related services.
Mr. Adjei Boateng highlighted the challenges that businesses face during power outages from the national grid, noting the stress and high costs associated with transporting generator sets for repairs and maintenance, as well as finding qualified electro-mechanical engineers to handle the work.
He assured the public that Anointed Electricals is committed to providing affordable prices and quality services through its team of technicians and engineers.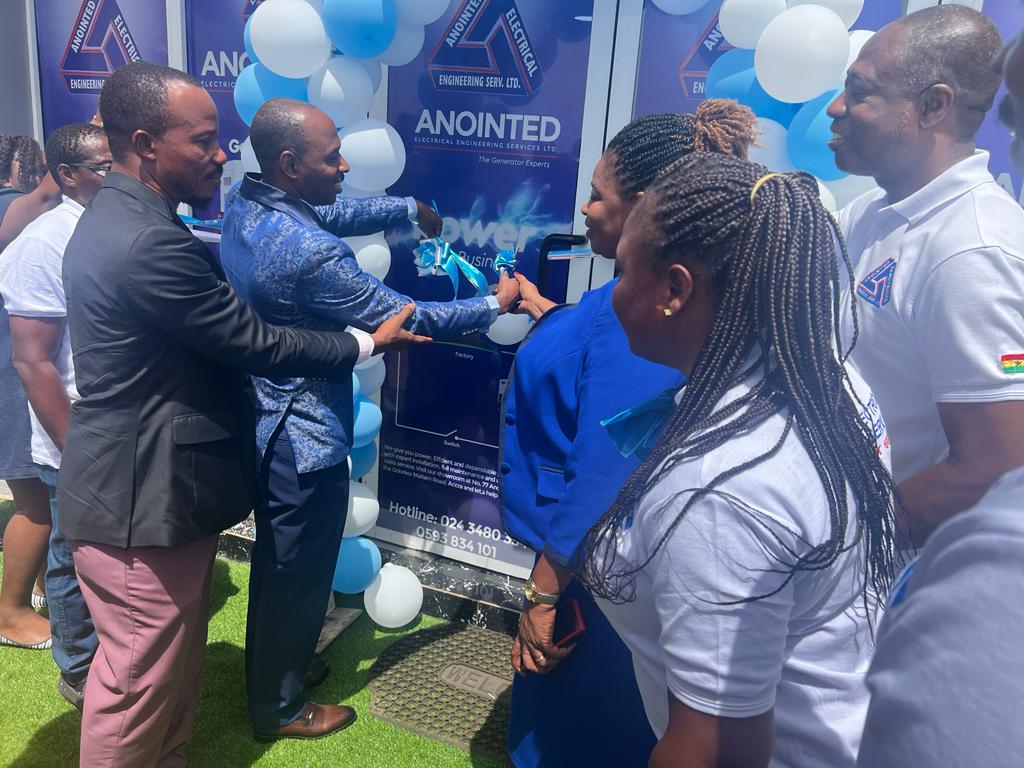 The company's core mandate revolves around excellent after-sales service, encompassing the sale of generator sets, servicing, generator rental, and the provision of genuine spare parts.
The Bolgatanga branch is conveniently located at the Frimps Filling station on the main Bolga–Tamale road.
It will cater to the needs of not only Bolgatanga but also the Upper East and North East regions, along with their surrounding areas.
To further enhance their services, Anointed Electricals has established the Anointed Technical Training Institute in Accra and Kumasi.
The institute offers practical, hands-on training in genset repair and other disciplines in the technical and vocational education and training (TVET) sector.
Madam Joyce Nuamah-Saka, the Head of Branch Network at Anointed Electricals Engineering Services Limited, emphasized that the company's presence in the region would serve as a solution to power challenges and the erratic power supply from the national grid.
She encouraged the public to consider alternative power sources to ensure business continuity, given the heavy load on the national grid, with generators being a viable option.
Madam Nuamah-Saka applauded the management of Anointed Electricals Engineering Services Limited for their unwavering dedication in successfully establishing and inaugurating the Bolgatanga branch.
She also highlighted the positive impact the expansion would have on job creation within the electro-mechanical engineering sector, emphasizing the crucial role of the private sector in driving economic growth and development.
The opening of the Bolgatanga branch marks another milestone for Anointed Electricals Engineering Services Limited, solidifying its commitment to providing comprehensive generator services and contributing to the power reliability of businesses in the region.
---